32

Imani Tillman

Class:

Height:


Senior-2014 5'10"


Hometown: Positions:
Gulfport, MS G/F/Wing(1-4)


High School:
Harrison Central High School

CONTACT INFO:
Address: 214 Kimberly Drive
Gulfport, MS 39503​​
E-Mail: msladycardinals@gmail.com
Phone:228-547-3293 or 228-284-7370​​ (Call or Text)
STRENGTHS:

AREAS TO

IMPROVE:


Defense​ Creating More Shots off the Dribble
3-Point Shot w/ deep range
​​​High Basketball IQ
Rebounding​
Leadership​
Great w/ Right & Left Hand​​



NOTE:

Helped Harrison Central Girl Basketball Team reach the 2013 MS High School State ​​Semi-Finals.

​​​
PATOSHA JEFFERY 2011 PRE-SEASON SHOW OFF EXPOSURE CAMP EVALUATIONS


Imani Tillman

(Harrison Central) 5'9" Forward.. Has a nice shooting touch with range


http://memphisgirlsbasketball.blogspot.com/2011/11/pre-season-show-off-camp-2014-class.html





Mississippi Girls' Basketball Report - ​​2013 Player Evaluation (from Leslie C. Toole)




Imani Tillman​

(M.L.C. AAU Team) An all-around basketball player who is very confident in her abilities. She has the ability to play and defend multiple positions on the court. She is an undersized post who is unafraid to attack bigger post players. A capable scorer whose 3 point shot has improved. An active rebounder. Will be better suited as a wing player at next level.

​
AAU
STATS

PPG APG RPG SPG BPG FT%

GPA ACT
2010 - 7.5 3.5 8.0 1.5 1.0 80.0 3.1 22
2011 - 10.5 5.0 10.5 2.5 2.0 80.0


2012

- 15.5 4.0 8.5 2.0 1.5 84.0


2013

- 18.5 3.5 7.5 2.5 1.0 79.0

​
FUTURE COLLEGE MAJOR:

SPORTS MEDICINE
ACHIEVEMENTS:
2011 AAU GIRLS BASKETBALL TOP PLAYERS LIST
2010-2011 HIGH SCHOOL VARSITY BASKETBALL LETTER
2012-2013 HIGH SCHOOL VARSITY BASKETBALL LETTER
2012-2013 MS HIGH SCHOOL STATE GIRLS BASKETBALL SEMI-FINALIST ​
2013 USA BASKETBALL TEAM INVITE​
2011 ​HIGH SCHOOL VARSITY VOLLEYBALL LETTER
2012 HIGH SCHOOL VARSITY VOLLEYBALL LETTER
2013 HIGH SCHOOL VARSITY VOLLEYBALL LETTER​
​​

PERSONALS:

Imani Tillman is the daughter of Altovise Tillman. She was born in Gulfport, MS on October 4, 1995. Imani has two older siblings. She is also the cousin of former Florida Gators Women's Basketball Player Standout & WNBA Charlotte Sting Basketball Player

Tiffany

Travis

and former North Carolina A&T Women's Basketball Player Kira Tillman.
COLLEGE INTERESTED:
​​​​ ORAL ROBERTS


COVENANT COLLEGE

​
​LINDENWOOD UNIVERSITY​ - BELLEVILLE, IL


SOUTHERN POLYTECHNIC STATE UNIVERSITY



​​​​

GEORGIA TECH
​​
​
FLORIDA STATE​​​


​​

AGNES SCOTT​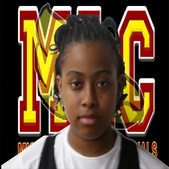 MAY 2012 - M.L.C. #32 IMANI TILLMAN
VIDEO - M.L.C. TEAM IN WHITE



2012 - M.L.C. #32 IMANI TILLMAN
HIGHLIGHT VIDEO

APRIL 14-15, 2013 - M.L.C. #32 IMANI TILLMAN HIGHLIGHT VIDEO

July 6-7, 2013 - M.L.C. #32 IMANI TILLMAN HIGHLIGHTS AT PEACH STATE BASKETBALL SUMMER KICKOFF
#32 Imani Tillman's Game Videos Below:


July 24-28, 2013-Dallas,TX - M.L.C. #32 IMANI TILLMAN 29pts, 10rebs GAME HIGHLIGHTS AT PRIMETIME GIRLS BASKETBALL NATIONAL
NCAA ID #: ​

1307386141



​​NCAA ELIGIBILITY REGISTER:

YES​



​​

OTHER SPORTS PLAYED:
Vol​leyball

Powerlifting
Track & Field​​ - Shot Put & Discus Throw
​